Welcome to "Buzz on by Thursday" blog hop hosted by


As you know this weekly hop was to made to make new Google Friends. We've decided to change it up and make this week Facebook Fan Page "like" day. So let's get our like buttons clicked!! :)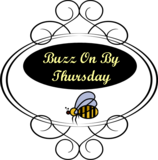 Buzz on By Thursday

is a great way to meet new bloggers
and increase your Facebook fans!
So join us, we promise you will have a blast! If you want to be a part of Buzz on by Thursday, just follow these few rules:
1. Like ALL of the Hostesses via their Facebook Fan Page. We are the first four in the list below.
2. Make sure to leave us a comment on the wall of each fan page to say hi, and so that we can follow back.
WE DO FOLLOW BACK!
3. Put your name and Facebook Fan Page URL in the linky below.
PLEASE DO NOT PUT YOUR SITE URL!
Visit other Fan Pages in the linky, and Like those pages too. Make sure to leave a comment on their fan page, so that person can visit you back.
4. If someone comments on your wall and you want to Like them back, make sure to leave a little note on their wall so they know you are Liking their page back.
We all need to be Liked. So go on and get started.
Thanks for Beeing a
part of Buzz on by Thursday!