Happy Thursday!
The Two Savvy Sisters
and
Fashionably Organized
are hosting a blog hop..."
Buzz on by Thursday
!" I JUST started some blog hopping last week and it has been so much fun! I've met a bunch of awesome new bloggers and found a ton of new blogs to read! This is a great way to increase your followers, meet new people and find some great reads. :)
Today they are spotlighting my blog!! ((super excited!!!)) Thank you so much gals! :)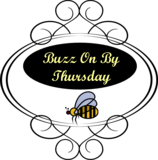 Wanna send a big HELLLOOO to all my new followers, thanks SO much for checking out my blog & following! I PROMISE I will follow you back...it's just a little hectic over here with my 2 little crazies running around all day, might have to wait till bedtime ;)
And if anyone is up for some facebook lovin' here is my fan page, I will "like" you too! ;)
Go get hoppin'...